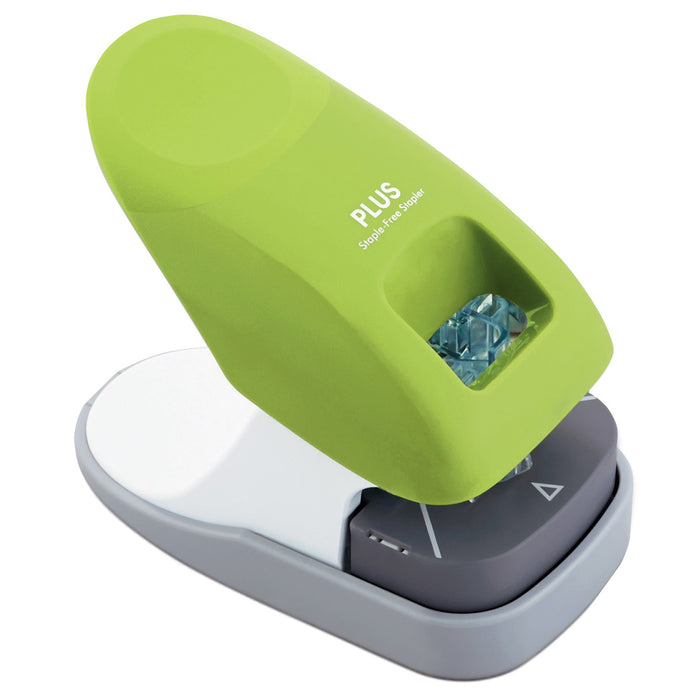 Desktop Paper Clinch Staple Free Stapler
Original price
$20.99
-
Original price
$20.99
We are introducing our innovative staple-free stapler, designed specifically for your desktop needs. This cutting-edge tool securely fastens paper without staples with its unique inter-folding process. Say goodbye to the hassle of purchasing and reloading staples, as this staple-free stapler is always ready to use. Let's explore the remarkable features and benefits that make it perfect for school, home, and office use.
Revolutionary Inter-Folding Process: Our staple-free stapler employs a one-of-a-kind inter-folding process that securely binds your papers together without relying on traditional staples. Interlocking the folded paper ensures a secure hold while eliminating the need for staples. Enjoy a sleek and professional paper presentation without the hassle or wastage.
Always Ready for Action: With our staple-free stapler, you never have to worry about running out of staples or dealing with jams. It's always prepared for your stapling needs, ensuring a smooth and uninterrupted workflow. Grab it from your desktop and start fastening without delays or complications.
Cost-Effective Solution: By eliminating the need for staples, our staple-free stapler saves you money in the long run. Say goodbye to regular staple purchases and invest in a long-lasting alternative. This eco-friendly choice helps you cut costs and reduces waste, contributing to a more sustainable workspace.
Space-Saving Compact Design: We understand the importance of a clutter-free desktop. That's why our staple-free stapler features a compact design that doesn't take up much space. Its dimensions of 5" L x 2.75" W x 4.25" H make it a perfect fit for any desktop, ensuring you have ample room for other essential items.
Child-Friendly and Paper Shredder Safe: The safety of your loved ones is our priority. Our staple-free stapler is designed with children in mind, ensuring a secure and worry-free stapling experience. Its staple-free operation eliminates the risk of accidental injuries caused by sharp staples. Additionally, it is paper shredder safe, allowing you to shred your documents without the need to remove any staples.
Versatility for School, Home, and Office: Whether you're a student, a professional, or a homemaker, our staple-free stapler is the perfect companion for all your paper fastening needs. Its versatility makes it suitable for a variety of environments, including schools, home offices, and traditional office settings. Enjoy the convenience and efficiency of this staple-free solution in any setting.
Our staple-free stapler revolutionizes the way you fasten papers on your desktop. Its unique inter-folding process provides a secure hold without the need for traditional staples. Always ready for use, cost-effective, compact in design, safe for children, paper shredder friendly, and suitable for school, home, and office use, it offers a comprehensive solution to your stapling needs. Invest in this remarkable tool today and experience a staple-free future.
Stapling Capacity: 10 sheets
Dimensions: 5" L x 2.75" W x 4.25" H